Injection Molding Factory in China
One-stop solution provider for plastic injection molding in China.
Teng Rui is a leading plastic injection molding factory located in China. We offer a one-stop solution for all your plastic injection molding needs, combining our state-of-the-art tooling workshop with our highly skilled plastic injection molding capabilities. From the very beginning of brainstorming, through 3D evaluation, prototypes (CNC Machining & 3D printing), small lot production by vacuum casting or 3D printing,  till tooling making & injection molding, we are always around you. 
We pride ourselves on our extensive knowledge and experience in tooling and plastic injection molding. Our team of experts is dedicated to delivering high-quality products and exceptional customer service to all of our clients.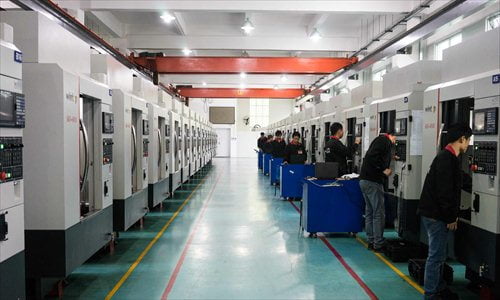 One-Stop Solution To Plastic injection Molding
We have a wide range of plastic injection molding machines, ranging from 50 to 1000 tons, which enable us to manufacture a variety of products of different sizes and complexities. In addition, we use the latest technology and techniques to ensure that our products meet the highest industry standards.
We understand that every project is unique, which is why we work closely with our clients to ensure that we fully understand their needs and requirements. This allows us to provide customized solutions that meet their specific needs.
Whether you need a prototype, a small batch of products, or a large-scale production run, Tengrui is your one-stop-shop for all your plastic injection molding needs. Contact us today to learn more about how we can help you bring your ideas to life.
Proven Track Record of Lean Plastic Injection Molding
As a lean injection molding manufacturer with a proven track record of success, we pride ourselves on delivering high-quality products with consistent results. Our experience spans across multiple categories, including consumer electronics, household appliances, medical devices, and automotive parts.
One of the key factors that sets us apart from other injection molding manufacturers is our commitment to lean manufacturing principles. We strive to continuously improve our processes, reduce waste, and enhance product quality through practices such as value stream mapping, visual management, and continuous improvement. By implementing these practices, we are able to deliver products to our customers faster, more efficiently, and with greater precision.
Our proven track record of success in multiple categories speaks for itself. We have worked with numerous companies in various industries and have consistently delivered products that meet their unique needs and specifications. Our expertise in designing and manufacturing products, combined with our ability to overcome unique challenges and requirements, makes us a reliable partner for any project.
We take quality control seriously and adhere to industry certifications and standards such as ISO 9001 or IATF 16949. Our quality control measures ensure that every product that leaves our factory is of the highest quality and meets or exceeds customer expectations. We are proud of the positive feedback we have received from our customers, and we continuously strive to improve our processes and deliver even better results.
We are confident in our ability and know-how to deliver high-quality products with consistent results. Our commitment to lean manufacturing principles, combined with our expertise in multiple categories, makes us a reliable partner for any project. Contact us today to see how we can help bring your project to life.