Ideal for small series low volume manufacturing, ranging from small numbers to hundreds. 
Vacuum Casting (Polyurethane Casting ) & Silicone Molding
Vacuum Casting (Polyurethane or Urethane Casting) Supplier- China Silicone Molding Factory
We offer a one-stop turnkey solution to low volume manufacturing through polyurethane vacuum casting & silicone molding, bring you the high-quality casted parts to assemble functional prototypes or small series productions upon the 3D drawings (CAD).  Meanwhile, we can customize the color, patterns, surface finishing (polished, matt, coating…etc.) and printings for this kind of small batch small lot production. 
Polyurethane casting is capable of making both soft & rigid parts, and the size of the casted parts can be in small centimeters all the way up to meters in complex designs; It is also available for over-molding when we want to combine 2 parts seamlessly in different materials, like TPU & ABS. 
Do these work abilities remind you of the injection molding? Actually, the vacuum casting is an alternative option to the injection molding for low volume manufacturing, especially when we need some functional prototypes while the injection mold is not ready, or we prepare some workable samples to test the market prior to invest big cost in the steel mold.
Benefits of Plastic Vacuum Casting
When to use vacuum casting?
Vacuum casting is the reproducing of master models by pouring liquid vacuum casting resins into a hollow silicone mold, the vacuum forced the trapped air or bubbles away to make nice surface; wait till the casting resins are cured and then remove the parts out of the silicone mold, repeat this procedure to make more.
A silicone mold is available for 20 times of reproducing, and this silicone mold is made by immersing the master model into a casting box full of liquid silicone. When the liquid silicone is cured, cut it off and remove the master model, the cured silicone then becomes our silicone mold with a cavity inside.
Regarding the master model for the vacuum casting, it can be any physical solid of your designs, generally, it is either made by CNC machining or 3D printing.
When we are satisfied with the vacuum casting products, it is time to go to next step to manually removing all burrs, as well as spray painting to customize the color & surface finishing.
Vacuum casting is ideal for low volume manufacturing, especially for functional prototypes, receiving all fine details we got from injection molding, but much lower investment and short lead time. 
Engineering team turns to vacuum casting when they need to verify designs & test functions at most time.  The injection mold is not ready during the new product development period, urethane casting brings the flexibility & possibility in real product checking at affordable cost. However, they may also prepare functional products through vacuum casting for marketing campaigns, kicker starter or indigogo campaigns, showroom display…etc., 
Vacuum casting can also be used for end-use parts in some applications, when it comes to specific market niche with small qty demand, we can choose within the pourable casting resins to receive the approximately close performance of ABS, Nylon, PP, acrylic and soft TPE rubber.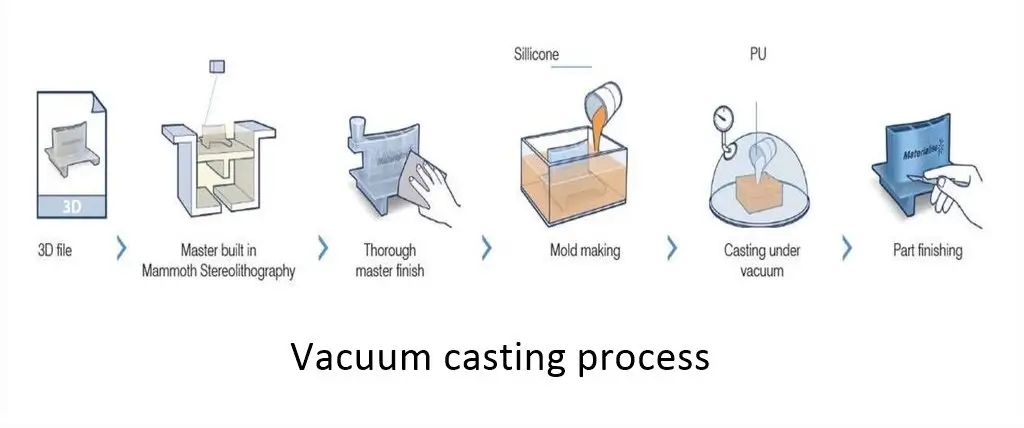 There are mainly 3 Steps in our Vacuum Casting System:
I.  Master model — CNC machining or 3D printing an original part upon 3D drawing.
II. Silicone mold — liquid silicone is poured around the master model and cured. Once the silicone is dry, remove master model from the silicone mold to get the cavity. 
III, Casting — the resin is poured into the cavity to create a production like replica or reproducing. 
Like the injection molded parts, there are burrs or rustic parts on the surface of the vacuum casted parts, our technicians will guide well-trained workers to modify & polish the surface carefully. 

Painting is advocated to define the product exterior surface rather in mold works for vacuum casting,  like colors and textures, it comes with better result in this way. 

Printings & assembly will be done at the end for vacuum casting manufacturing, and assembly test is implemented for every single part to make sure formfitting assembly before delivery. 
Main Specifications for Vacuum Casting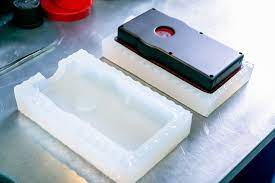 Frequently Asked Questions on Vacuum Casting:
Receive production-grade products without investment in steel tooling. Short lead time,  and  speed up R&D of new products. 
Simply send us the 3D file, our engineers will review & evaluate to work on a quotation shortly.
Good question, it is available to make 15-20pcs each silicone mold varies with 3D designs. Furthermore, it's highlighted that we must go to reproducing immediately once the silicone mold is ready, there will be deformation on the silicone mold cavity in short time. And vacuum casting manufacturer will make new silicone mold every time for a repeated production.